Product Description
The Fusion Firearms base kit is a 1911 Traditional Hunter, 70 series style, 10mm, Full Size frame and 6 inch Long-slide slide 1911 Kit. The Base kit frame and slide are from our finest materials. The kit comes with fitted, slide, Ramped Match stainless steel barrel, Barrel bushing, Slide stop, Link, pin and recoil system. The frames are our Extremely High Quality Pro-Series combat 1911 frame with Plain front-strap, checkering(25LPI), or Chain-link and undercut trigger guard. The rear of the frame is already cut for a .25 radius to accept a high-ride beavertail grip safety. The magwell opening is also beveled. The slide is a standard 5 inch length Forged Carbon steel with Rear cocking serrations( Front & Rear Cocking serrations, also available), Lowered and relieved ejection port, serrated target top or Plain Round top and Novak or Bomar sight cuts. Both with all machining and heat treatments complete. All Ready to build a super fine custom 1911. All other small parts you need to complete your build will be discounted in cost to you as a kit build team member. Email for list of your discounts.
These are Top Quality Professional Series Parts; Made from the best materials and processes available in today's market. FUSION is a company formed by past Dan Wesson Firearms President, Bob Serva. Bob Has been working in the industry and with the 1911 for over 20 years and understands the quality of parts needed to build a great 1911 pistol. He has created Fusion to offer the gunsmith "Professional grade parts". These parts are the same parts the Pro's use to build their products. Customized Kits are available, Slab-side(Monolith) Custom machining and engraving, email us for a quote.
All Kits must be shipped to an FFL for your Pick-up, FFL can be emailed here or faxed to 607=204-0254…..
++If you would like to order one of these frames, Please email us for payment arrangements.
Other options to consider
- Caliber Change to 10mm, 38 Super, 400 Corbon, 9mm, or 9×23 – add $95
- Add Plunger tube $23
- Add Ejector and Pin $23
- Add Front cocking serrations $95
- Add Fit Sights $68 Plus sight cost
- Add Flush-cut and target crown Barrel $38
- Add Carry Cut Mainspring Housing $165, this includes Machining, Blending to the frame and the Carry cut Mainspring Housing with internal parts
- Add Press Check cuts to front of Slide $85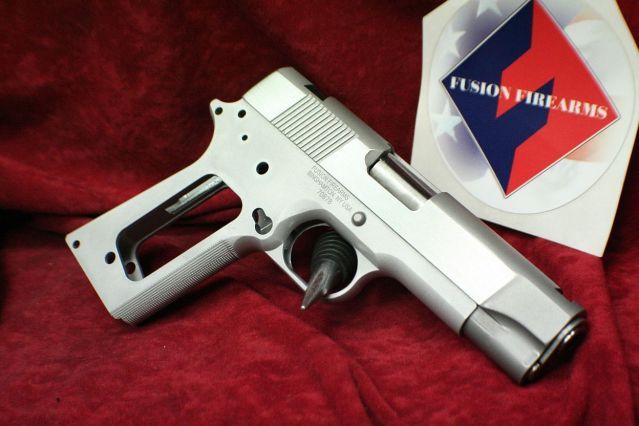 - Add Diamond Line top serrations $135
- Add Fancy fine top serrations with reveal $135
Finishing work also available, see our gunsmithing section